This post is part 2 of the Wheelchair Ramp Series. Be sure to read part 1 to learn more about the main components of a properly constructed wheelchair ramp – Wheelchair Ramps Part 1 – Overview and Part 3 – Wheelchair Ramps Part 3 – Aesthetics and Materials
Wheelchair Ramp Design
To begin designing your ramp the first consideration is how much rise (how high is the door above the ground) you need to get the elderly person up to the entry way of the home or mother in law suite.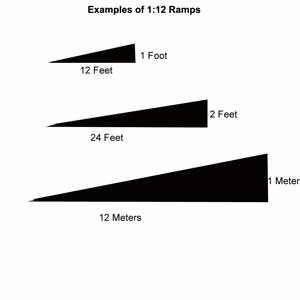 A ratio of 1:12 is the maximum slope that can be used for the ramp. This means that there must be 12 inches of handicap ramp length for every 1" of height. Even though this ratio is viable it can still be a little steep for some people to make there way safely up or down. It is preferable to use a ratio of 1:16 if possible for the most safe and convenient use by the wheelchair.

Wheelchair Ramp Shape
The shape of the ramp is very important in being able to fit it into your space. A straight line would be an obvious first choice but is rarely possible due to the length generated by the ratio formulas given above.
Some other shapes are the L shape, the switchback, and the U shape. It is advisable to provide a level platform with the required amount of turning radius at each turn to allow safe and easy maneuvering.
The maximum height between landings (or level turning areas) is 30" which in the case of the 1:12 slope is 30' long and in the case of the 1:16 slope is 40' long
Wheelchair Lifts
If your ramp is going to be over 30 feet long you may want to consider some other options such as a wheelchair lift to help your loved one access the home safely. A lift can take up 30 square feet or less in space and avoid the long ramps that would otherwise be needed to get your loved one up to the entryway.
If you do use a lift try to build it under a roof to prevent ice and water from building up on it making for a potentially dangerous situation. The costs of lifts can vary from $3,000 to $15,000 depending on the type of lift and other considerations such as concrete slab etc…
Be sure t0 check out Part 1 of this series – Wheelchair Ramps part 1 – Overview and  Part 3 – Wheelchair Ramps Part 3 – Aesthetics and Materials
What do you think about Wheelchair Ramps? Let us know by leaving a comment below!