Your basement is a part of the house you have neglected for too long. It does not need to be a dark, uninviting room useful only for laundry and storing boxes of things you haven't looked at in decades. Your basement can become a perfectly good, useful part of the house – even a place for someone else to live comfortably. In this article, we'll mention some basement remodeling ideas to get you started. Once you start with ideas for remodeling your basement, you will find that it's almost like you've added a new floor to your house!
Here's a scenario that many of us may face: what if you have a relative, like a mother-in-law or a child, come back to live with you for a time? The basement can be an excellent place to remodel for this purpose, giving your relative space they can feel at home in. The basement naturally feels a little different from the rest of the building – you can use this to your advantage. That "different feeling" will make your guest feel more comfortable with calling a certain portion of the house their own.
You can seize on that "different feeling" for other purposes, too. Once you've renovated the basement, you will find that the space's unique qualities make it very suitable for rooms in the home that aren't meant to feel quite like the rest of the house. The basement can make an excellent playroom for children, or a good home office space. Since you want to be able to focus on work rather than the demands of home, having this different space can be a real asset. A game room or a den with a bar might also be good options. Since most basements are huge, open spaces in comparison to other rooms, you may even be able to utilize more than one of these concepts without even needing to build new walls.
Basement Remodeling Considerations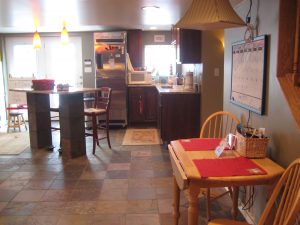 There are some things you will need to take into account as you remodel your basement, though – the basement just isn't like the other rooms in your house. The biggest difference is lighting. Pretty much every room in the upper floors of your home has windows to let in some ambient light, but because the basement is below the grade of your property, it lacks this property. Don't respond to this just by flooding the place with bright lighting and whitewashing your walls – while that will make things very bright, it will also make it garish and uncomfortable. Instead, consider using warm, bright colors, and using things like can lighting and sconces. The dark quality of the basement can be an advantage in some settings, like a game room or a den.
Other things to consider are elements like pipework or ventilation ducts. Try and keep these along the walls of the basement, so that they don't crowd the space in the center of the room. You can also cover them up with paneling so that they don't stand out, or paint them a darker color for a more moody effect. There are plenty of ways to make these pieces work for your renovation.
The main thing to remember is to not be daunted by the task at hand. Your basement has the potential to be as inviting and useful a part of the home as any other room, and has other advantages besides – that "different feel" we mentioned, which makes the basement a perfect place for a mother in-law suite, a playroom, an office, or dozens of other uses. Instead of just a place to store your high school memorabilia, why not give the place a remodel and see what a difference adding a floor to your house makes?
Related Articles:
Mother In Law Suite Floor Plans
We have put together some Mother In Law Suite Floor Plans to help you start thinking about the best way to lay out your mother in-law suite. …
Mother In Law Suite Design
The ILS Concept Design Form is designed to help you ease your way into the process of finding the best in home solution for your loved one.
Adult Day Care; How to Find the Best Adult Day Care Center for You
Adult day care involves specialized programs that are designed to enhance the social, mental and physical care…