Your body changes over the years, and your ability to access items will also change. A young child cannot reach items that set back on the kitchen counter, but healthy adults have no problem reaching items throughout the kitchen.
As you age, your ability to get items out of a top freezer or set up a blender will also start to fail. However, there are several ways to make your appliances more accessible and more functional.[margin10]
Easy Baking
Standard ovens feature a door that opens low to the ground. This may work well for someone in a wheelchair, but it can turn into a dangerous hazard for someone who can still walk but has poor balance. A better choice is double wall ovens. The top oven is easy to reach for most adult family members. It's also the right height for an older person who can still walk but has trouble bending and lifting items. However, the lower oven is at the right level for someone who is in a wheelchair and seated at a lower level. Whether the top or lower oven will see more use, invest in a special grabber that will make it easy to pull racks out before lifting dishes out of the oven.
Smooth Cooking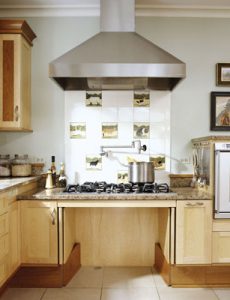 When you install a wall oven, you will need a regular cooktop for cooking meals. Counters are usually 36 inches tall, but this may not be the right height for someone in a wheelchair. Consider a kitchen island with multiple levels and a cooktop set at the lower level. Surrounded on three sides by the raised surface, it is safer to use. It is also easier for someone in a wheelchair to reach without trying to stand up. Prevent burns with controls that are on the front of the stove and can easily be operated with one hand.
Lower the Microwave
Microwaves should be easy to reach both for working the controls and cooking items. If the counters are a little too high, then you may want to have the counter for the microwave lowered. It is imperative to have a flat surface in front of the microwave where hot bowls can be set down. Skin becomes more sensitive to heat with age, and burns are more likely to occur. Keep a few thin hot pads near the microwave for those dishes that just feel a little too warm.[margin10]
Make the Most of an Island
Kitchen islands are a popular kitchen feature because they are so functional. Multiple people can gather in one spot to prepare a meal. Filled with storage space, they can become one of the most useful areas in an accessible kitchen. With power run to the island, small appliances can be located in this central spot. Rather than leaving them on top of the island, tuck them neatly away in special cabinets.
With special sliding platforms, fold-out drawers and even pop-up platforms, all of the necessary kitchen appliances will be stored out of sight and yet stay within easy reach. Specially designed cubby holes can accommodate various appliances like mixers, blenders, juicers and even small microwaves. A power supply is behind the cubby hole, and the appliance sits on a stand or shelf that moves into position when desired. This keeps the counters free of appliances while allowing someone in a wheelchair easy access.
Warming Drawers
If you have an aging parent who needs a little more assistance, then you may be making meals and taking them over. Where do you put the meals when they arrive? With a warming drawer, you could slip that nutritious meal into the drawer and it would be ready whenever your parent is hungry. Ideal for keeping foods warm for an hour or more, they are a smart addition to any senior or handicapped kitchen.
The Beauty of Side-by-Side
When it comes to the refrigerator, you may be trying to determine if the freezer will fit on the top or bottom. The best choice is actually a side-by-side unit. This allows people with limited mobility to place refrigerated and frozen items on high or low shelves as needed. Someone may start out keeping the most commonly used items on the top shelf to avoid bending. As they age and their strength fails, those items can be moved to the bottom shelves where they are accessible from a wheelchair.
Cleaning it Up
Don't forget the importance of a dishwasher. It's a luxury most people don't want to live without, and that includes your parents. Accessible dishwashers feature lower controls that are easy to reach and racks that can be reached from the front of the machine for easy loading.
When looking at accessible appliances, it's important to consider your changing needs. Although your father may be walking around on his own now, how will he access food and supplies if he is in a wheelchair? Many of these solutions will accommodate both situations, so the kitchen will remain functional for years to come.
Residence Inn Las Vegas South
chanel espadrilles
Cursive fonts are attractive for a number of reasons
6 Fashion Tips for Gardeners
coach outlet
which we believe will be successful
How to Become a Fashion Photographer in Eight Steps
Rolex replica
Careers for MBA Degrees
Conquer the Beach with Plus Size Bathing Suits
replica watches
But what about financials
A moment of silence occurred six times in remembrance of the 9
kamagra now
Epaulet 8oz summer weight chinos in either light gray or stone
Monique Lhuillier presents another stunning collection
Replica Uhren
The Do's and Dont's
Fushigi Yugi Suzaku Box Set
how to get a lot of followers on instagram
designer dos and then wear
ABCs Guide to Common Cat Poisonings
replica bags
but he stays on the side of the hero